---
---
Europeian Midterm Senate Satisfaction Poll
Written by Andro
​
---
---
Introduction
The Europeian Broadcasting Corporation (EBC) conducted a midterm Senate Poll between September 15th and September 19th asking people about their satisfaction with the Senate thus far. The poll received 19 responses.
Overall Satisfaction: 21.1% Satisfied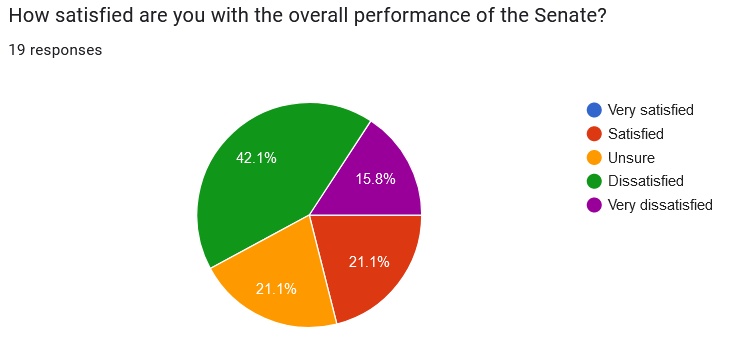 The current Senate has a satisfaction rate of 21.1%, which is significantly lower than the previous Senate's midterm rating of 43.5%. This is a historically low number for the Senate and can be considered as an extremely poor rating. There were no respondents that were "very satisfied" with the work of the Senate. Most comments on this question noted the lack of activity from the Senate as well as the slow work output that has happened thus far. One comment also noted that the Senate was too small, which could signify a shift in the number of Senate seats for the next term.
Too small, inactive.

am I allowed to complain that it's inactive

We have a Senate?

It's been very slow and very inactive. I'd have taken an active but poor legislative Senate over this one as at least it would generate activity and the President could veto poor legislation.
Speaker Prim: 73.6% Satisfied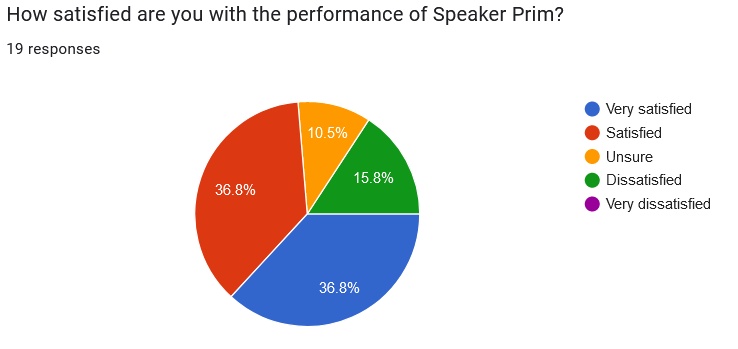 Speaker Prim has a high rate of approval, with comments noting that he has been the most prominent figure within the Senate as well as a senator that is trying his best given the circumstances. The rating suggests that despite the Senate's low approval rating and work output, people are not pinning blame for that on the Speaker. Prim posts the highest rating of any Senator at the midterm.
Prim has carried the Senate this term besides being a competent Speaker

Top marks. Prim has been an amazing speaker and senator.

He's voiced his frustration with the lack of movement from other Senators and they have ignored it, I guess? He's on track and doing what he can.

He's trying! The rest of the Senate seems to have disappeared, though.

He has made clear his annoyance at the lack of movement caused mainly by his Senate colleagues.
Senator Cove: 31.6% Satisfied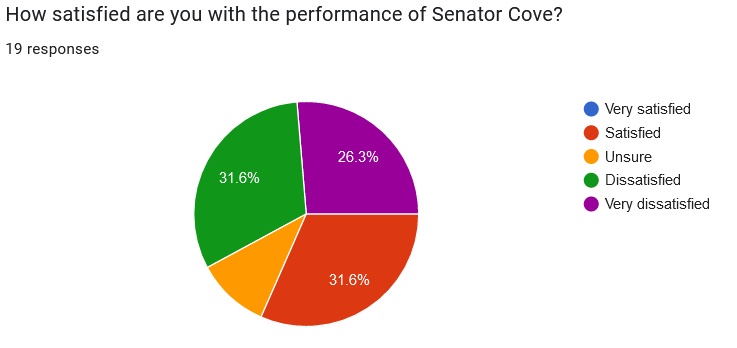 Senator Cove posts the joint-lowest satisfaction rating (alongside Gorundu) of the Senate at the midterm. This low approval rating seems to have been caused by the senator's inactivity in the term thus far, with comments mainly talking about how Cove has not been visible throughout the term this far.
Inactive

Forgot Cove was a Senator xD

Cove at least did some things once poked.

Oh, Cove's a Senator?

Just not active at all. Really should have stepped down after two terms.
Senator McEntire: 47.4% Satisfied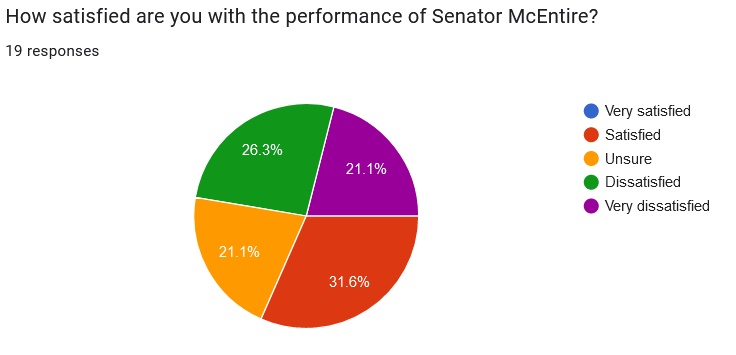 Senator McEntire receives an approval rating less than 50% but still sits above the approval rating of the Senate. While some comments did note that the senator had some good input so far, many criticize McEntire for the Senate Intelligence Committee, which has seen very little work go into it, despite having campaigned heavily for it over the past two terms. It should be noted that the Senator did take a LOA recently, which could have contributed to the lack of work on the Committee.
McEntire had some good input

Kind of in and out of conversations, but I understand he had a LoA recently.

Didn't he fight tooth and nail, two terms, for the Senate Intelligence thing? A lot of bluster for a lot of nothing.

*Cough* Committee??

Overall he has been more active than others, but after two terms of campaigning heavily on the Intelligence Committee, what do we have to show for it?
Senator Peeps: 63.2% Satisfied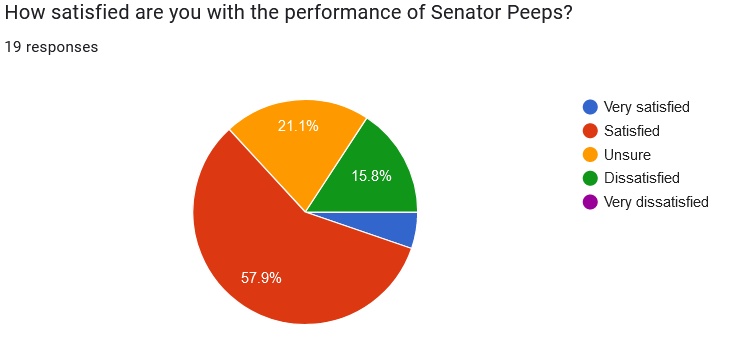 Senator Peeps is the second-most popular senator after Speaker Prim, with an approval rating of 63.2%. As shown in the comments, respondents are satisfied with the senator's activity thus far, considering him as one of the more active senators so far in comparison to the Senate.
Peeps is good and more people should listen to him

I treated "Unsure" as "Neutral". He's been decent in comparison with the rest of the Senate but nowhere near as active as I had hoped at the start of the term.

One of the more active Senators.
Senator Gorundu: 31.6% Satisfied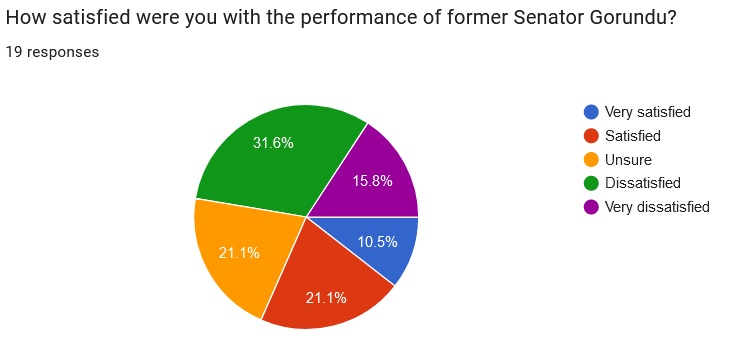 Senator Gorundu sports an approval rating of 31.6%, putting him alongside Cove as the least popular Senators at the midterm. This rating seems to have also been caused by the senator's low levels of activity, with most respondents commenting on the fact that the Senator was quite inactive. It must be noted that Gorundu did resign from the Senate shortly before this poll was released, citing the fact that they have not had enough time to devote to their Senate duties and the Senator has also taken multiple LOAs throughout the term due to their commitments in RL. This largely explains the impression that Gorundu has not been active throughout the term.
Inactive.

He was active even though I didn't agree with a lot of his ideas

I treated "Unsure" as "Incomplete". He recognized that RL things were affecting his performance and exited stage right - that was the right thing to do and I'm not going to pile on his performance because of it.

He was very inactive and he should have stepped down sooner.
Senate Election

Who people want to see return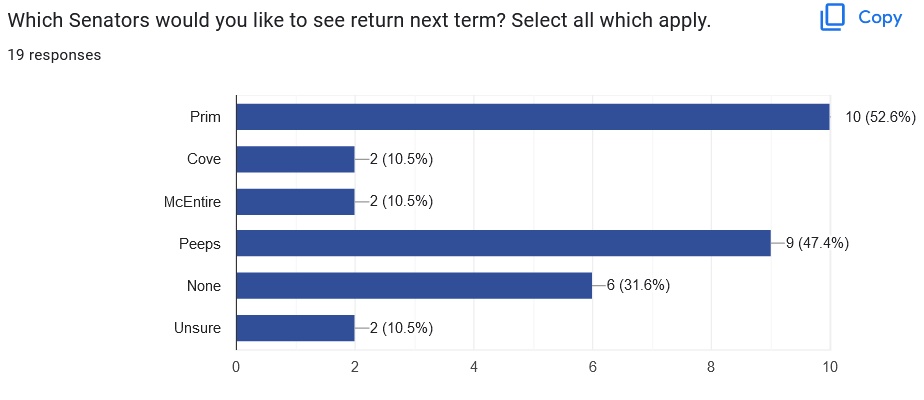 Apart from Senator Prim, every Senator received less than 50% of the votes, which corresponds to both the Senate's low approval rating as well as the approval ratings of the senators in question. 31.6% of the votes does signal that respondents are extremely unsatisfied with the Senate, and would rather not see any of them return. However, Prim and Peeps sport the highest percentage of votes, with both of them receiving 52.6% and 47.4% of the votes respectively.
Who else people want to see run for Senate
SkyGreen

Anyone.

tbowsers, Turbiatop

Lloen, who has already said he will.

Lloenflys, SkyGreen, Andro, Andy, Darkslayer,

Pland Adanna, Izzy, Seva, Lloenflys, UPC

Lloenflys

Lime, Sky, Lloen

anyone
There were quite a lot of suggestions as to who should run for Senate excluding current senators, with a total of 12 people suggested. Lloen, who was elected to the Senate in the recent Senate By-Election, leads the way with 5 people suggesting him. SkyGreen was also a notable name, with 3 people suggesting him. There was also two respondents noting that they would be happy with anyone running, giving the impression that some people in the community are dissatisfied with both the quality of candidates running as well as the lack of them.
Preferred number of seats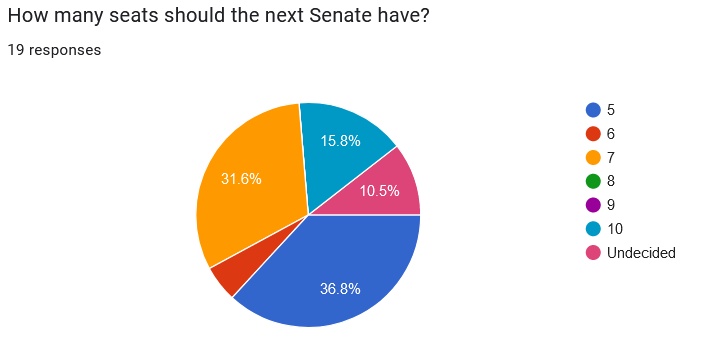 This question asked respondents what their preferred number of seats were for the Senate. A 5 seat Senate seems to be the most popular option, with 36.8% of people choosing this option. However, a 7 seat Senate was close behind with 31.6% of the vote. These have been the most popular Senate sizes in recent history, and we can expect to see a choice between the two in the next General Elections.
Choice whether to run for Senate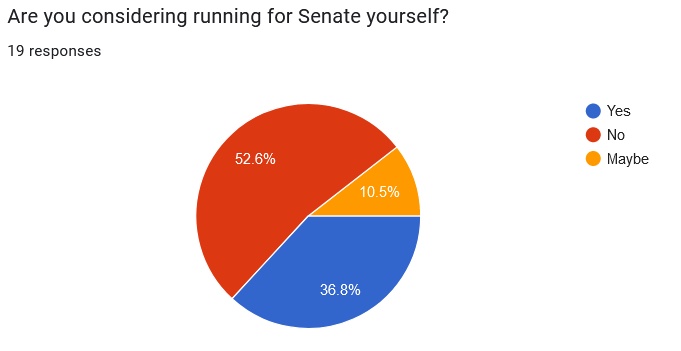 9 people who took the poll are considering running for elections while 10 are not. This could signify a more competitive General election, with more people seemingly wanting to run.
The Senate's Performance
In this section, respondents were asked about their opinions on the Senate's handling of issues and legislation that have been seen throughout the first half of the term. It looks like while there was broad satisfaction over the Senate's handling of Executive Oversight, the opposite was seen with the Senate's level of activity in this term, which matches a lot of the criticism seen in previous comments.
On the Senate's Level of Activity this Term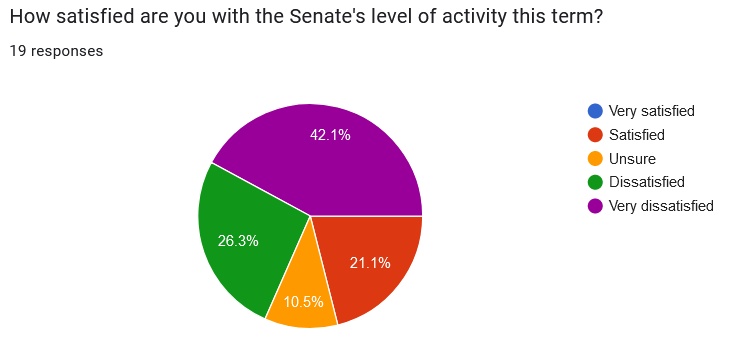 A majority of respondents were left feeling dissatisfied over the Senate's level of activity, with 68.4% of respondents dissatisfied. Furthermore, a plurality of respondents are extremely dissatisfied, with 42.1% of respondents choosing this option. This seems to be the main downfall of the Senate for this term and the Senate needs to rectify this quickly if they want to see their satisfaction rates improve over the rest of the term.
On the Senate's Handling of Executive Oversight (Including Confirmation Hearings)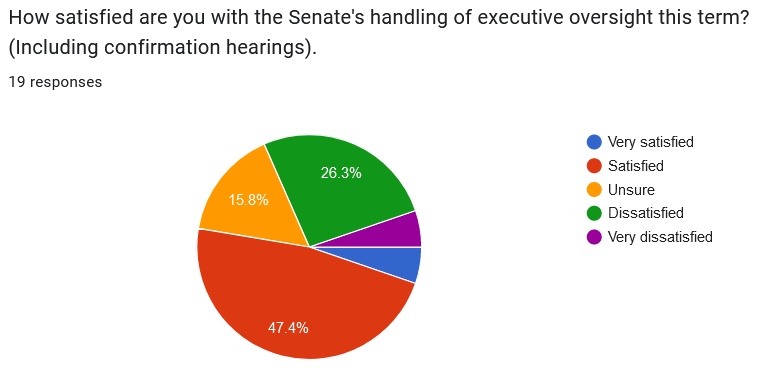 A slight majority of respondents were satisfied over the Senate's handling of Executive Oversight, with 52.7% of people choosing this option. However, 31.6% of respondents were left feeling dissatisfied while 15.8% of people were unsure.
On further comments regarding the Senate
Treaty Violation Prosecution Amendment should never have been brought to the floor. Senate needs to be bigger so we can have our standard two inactive Senators and still be able to conduct business.

they handled the oversight discussion in the best way they could - they tabled it

McEntire's nay for Lime came out of nowhere.

The length of time some nominees took to get through the Senate was ridiculous. Basically a week of the first term completely wasted for no reason at all, bar a slow and inactive Senate. McEntire no on Lime was also weird and didn't seem to come from anything substantive.